Description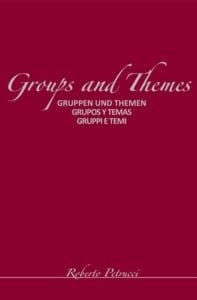 This book is a combination of the classical approach with the modern thinking and can be easily used by every homeopath using different methods.
Roberto Petrucci, MD, wrote 8 key themes for 172 groups (56 Plant families, 13 groups from Animal Kingdom, 6 periods and 18 stages of the Periodic table, 15 anions and 52 cations from Mineral Kingdom and 12 different groups like desert remedies, drugs, gems, oils and rocks).
The eight sentences method easily let us understand the main topics of every group trying to give a deep shortcut in order to be able to find the right remedy from the biggest selection in the shorter time.  He summarizes each group and them in 8 specific points/characteristics.
English, German, Italian, and Spanish
284 page. 2019 copyright
TABLE OF CONTENTS:
PLANTS (56)
ALLIACEAE
AMARANTHACEAE
ANACARDIACEAE
APIACEAE (UMBELLIFERAE) APOCYNACEAE
ARACEAE
ARALIACEAE
ARISTOLOCHIACEAE
ASPARAGACEAE
ASTERACEAE (COMPOSITAE) BERBERIDACEAE
BORAGINACEAE
BRASSICACEAE
BURSERACEAE
CACTACEAE
CAMPANULACEAE
CANNABACEAE
CARNIVOROUS PLANTS CUCURBITACEAE
DIOSCORALES (order)
DIPSICALES (order)
ERICACEAE
ERYTHROXYLACEAE
EUPHORBIACEAE
FABACEAE
HYACINTHACEAE
LAMIACEAE (LABIATAE)
LAURALES (order)
LILIALES (order)
LOGANIACEAE (including GELSEMIACEAE) MALVACEAE
MELANTHIACEAE
MENISPERMACEAE
MORACEAE
MYRSINACEAE
MYRTACEAE
NYMPHACEAE
OLEACEAE
ORCHIDACEAE
PAPAVERACEAE
PINALES – CONIFERS (order) PIPERACEAE
POALES (order) POLYGONACEAE RANUNCULACEAE ROSACEAE
RUBIACEAE
RUTACEAE
SALICACEAE
SAPINDACEAE SAXIFRAGALES (order) SCROPHULARIACEAE SOLANACEAE
URTICACEAE
VIOLACEAE
ZINGIBERALES (order)
ANIMALS (13)
BIRDS
BUTTERFLIES
CROCODYLIA
FISH
INSECTS
LIZARDS
MAMMALS
PARASITES
PREDATORS
SCORPIONS
SEA ANIMALS
SNAKES
SPIDERS
ANIONS (15)
ACETICUMS
ARSENICOSUMS
BROMATUMS
CARBONICUMS
CHROMATES & DICHROMATES
CYANATUMS
FLUORATUMS
HYDROXIDES
IODATUMS
MURIATICUMS
NITRICUMS
OXYDATUMS
PHOSPHORICUMS
SILICATUMS
SULPHURICUMS
CATIONS (52)
ALUMINIUM
AMMONIUM
ANTIMONIUM
ARGENTUM
AURUM
BARYUM
BERYLLIUM
BISMUTHUM
BORON
CADMIUM
CAESIUM
CALCAREA
COBALTUM
CUPRUM
FERRUM
GALLIUM
GERMANIUM
HAFNIUM
HYDROGEN
INDIUM
IRIDIUM
KALIUM
LITHIUM
MAGNESIUM
MANGANUM
MERCURIUS
MOLYBDENUM
NATRIUM
NICCOLUM
NIOBIUM
OSMIUM
PALLADIUM
PLATINUM
PLUMBUM
RHENIUM
RHODIUM
RUBIDIUM
RUTHENIUM
SCANDIUM
SELENIUM
STANNUM
STRONTIUM
TANTALIUM
TECHNETIUM
TELLURIUM
THALLIUM
TITANIUM
TUNGSTENIUM
VANADIUM
YTTRIUM
ZINCUM
ZIRCONIUM
PERIODS (6)
PERIOD 1
PERIOD 2
PERIOD 3
PERIOD 4
PERIOD 5
PERIOD 6
STAGES (18)
STAGE 1
STAGE 2
STAGE 3
STAGE 4
STAGE 5
STAGE 6
STAGE 7
STAGE 8
STAGE 9
STAGE 10
STAGE 11
STAGE 12
STAGE 13
STAGE 14
STAGE 15
STAGE 16
STAGE 17
STAGE 18
OTHER GROUPS (12)
ACIDUMS
ACTINIDES
AMPHETAMINES LIKE
BOWEL NOSODES
DESERT REMEDIES
DRUGS
FUNGI
GEMS
LANTHANIDES
NOBLE GASES
OILS
ROCKS
GROUPS AND REMEDIES
REMEDIES AND GROUPS
Robert Pettrucci is president of the CENTRE FOR HOMEOPATHY MILAN.
Degree in medicine and surgery taken at the University of Milan.
Diploma obtained at the Clinical Training Center for Classical Homeopathy in Hechtel (Belgium) under the guidance of Alfons Geukens.
Teacher of Homeopathy in several schools in Italy and abroad (Belgium, Czech republic, Dubai, Germany, India, Japan, Mexico, Romania, Slovenia, Sweden, Switzerland).
Director of studies at CENTRE FOR HOMEOPATHY in Milan and CENTRE FOR HOMEOPATHY in Catania.
Author of the Pediatric Repertory Children Concepts.
Author of the book Children: Homeopathic Materia Medica with Repertorial Symptoms (a materia medica of 543 remedies with 2840 symptoms grouped in themes and concepts), edited in Italian, English and German (to be published in Spanish and Japanese).
Teacher of Materia Medica for the specialisation course in homeopathic medicine held at the University of L'Aquila.
From 2000 to 2005 Director of the School – Training – Teaching Department of the Italian Federation of Homeopathic Doctors (FIAMO).